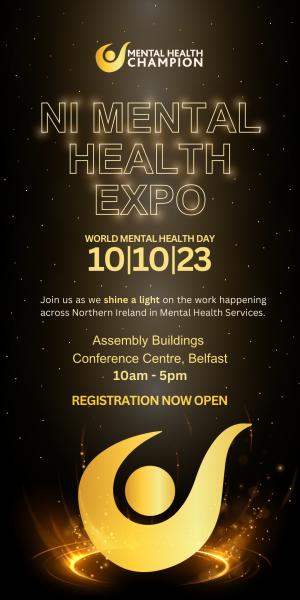 To mark World Mental Health Day 2023 on Tuesday 10th October, the Mental Health Champion is shining a light on the work being undertaken in Northern Ireland's Mental Health Services. Staff in both the Statutory and Community & Voluntary sector are delivering life changing treatment and care, to reduce suffering and help individuals, families and communities to flourish.
The NI Mental Health Expo is an opportunity to learn more about the services available, with 15 exhibitors showcasing the mental health services they provide that are making a difference, as well as a series of talks and panel sessions throughout the day discussing some of the most important work currently ongoing.
Exhibitors include:
Action Mental Health
Aware NI
Mindwise
Inspire
Samaritans NI
Lifeline
PIPS Suicide Prevention Charity
Papyrus NI
Extern
TAMHI
Find Help NI
Belfast Trust
Families' Voices Forum
The Rainbow Project
CAUSE
Full Agenda
09:30 – 10:00              Registration Opens and Expo Opens
10:00 – 10:15              Welcome and Opening Remarks
Professor Siobhan O'Neill, Mental Health Champion
10:15 – 10:45              Launch of Fundamental Facts of Mental Health
Presentation with Mental Health Foundation
The Mental Health Champion and the Mental Health Foundation are delighted to launch 'The Fundamental Facts about Mental Health in Northern Ireland,' this report provides an updated summary of important statistics about mental health in Northern Ireland. In this session the Mental Health Foundation will present accurate and up to date figures on the numbers of people with poor mental health in NI, how we compare with other regions and how our services compare with those available elsewhere.
10:45 – 11:15              Break
11:15 – 12:00              Panel Session: Trauma Services in NI
Trauma, including childhood adversities are important predictors of mental ill health. The legacy of conflict has also left its mark on the mental health of the NI population. In this session we explore the ways in which we treat and support those that have experienced childhood adversity and trauma. We also highlight the features of effective treatments for trauma related mental health difficulties, and discuss the ways in which we as a society can become more trauma informed.
Speakers:
Dr Ciara Downes, Consultant Clinical Psychologist,

Northern Health and Social Care Trust

Dr Mark Conachy, Consultant Clinical Psychologist, Belfast Health and Social Care Trust and Kingsbridge Healthcare Group

Dr Paul Gallagher, Trauma Education Officer, WAVE Trauma Centre

Ian Jeffers, Commissioner for Victims and Survivors
12:00 – 12:15              Break
12:15 – 12:45              Keynote: Public Health Approaches to Address Mental Illness and Suicide
Professor Ann John, Professor of Public Health and Psychiatry, Swansea University Medical School
12:45 – 13:30              Break and Lunch
13:30 – 14:30              Panel Session: Politics, Policy and Mental Health
How can politics and policy be used to improve poor mental health in NI, while also creating a society that focuses on improving public wellness in order to prevent mental ill health in the future?
Speakers:
Órlaithí

Flynn MLA, 

Sinn Féin
Diane Forsythe MLA, DUP

Paula Bradshaw MLA, Alliance Party

Robbie Butler MLA, UUP

Colin McGrath MLA, SDLP
14:30 – 15.00              Break
15:00 – 15:30             Keynote: Towards Zero Suicide
The TZS Programme is committed to enhancing the care and outcomes of mental health patients and patients in prisons. Sharing the learning to date from the following Northern Ireland Towards Zero Suicide (TZS) quality improvement patient safety initiatives:
Suicide Prevention Care Pathway
Early post-discharge Appointment
Building Safer Wards
Workforce development
Healthcare in Prisons
Speakers:
Jan McGall, Director of Mental Health and Disability Services, Southern Health and Social Care Trust. Chair of Towards Zero Suicide Regional Collaborative Board
Liz McGrath, Towards Zero Suicide Service Improvement Manager Southern Health and Social Care Trust
Alan Dagg, Team Leader, Recovery College, South Eastern Health and Social Care Trust
Damien Kavanagh, Service Improvement Manager, Healthcare in Prisons, South Eastern Health and Social Care Trust
15:30 – 16:00              Break
16:00 – 16:45             Panel Session: Mental Health in the Community
It has long been recognised that mental health is built in communities, and in NI a high proportion of mental health services are delivered within the community and voluntary sector. Community-based services are also vital in providing the early, preventative interventions which keep people healthy and support families who are struggling. This panel will focus on the services provided in the community-voluntary sector and the ways in which they align with statutory services to support safe and healthy communities.
Speakers:
Alex Bunting, Group Director of Therapeutic and Wellbeing Services, Inspire

David Babington, Chief Executive, Action Mental Health

Fiona Teague,

Head of Health Improvement, Public Health Agency

Shelley Keenan, Mental Health Lead, Down, North Down and Ards GP Federations
16:45 – 17:00             Closing remarks and end of Expo
Professor Siobhan O'Neill, Mental Health Champion