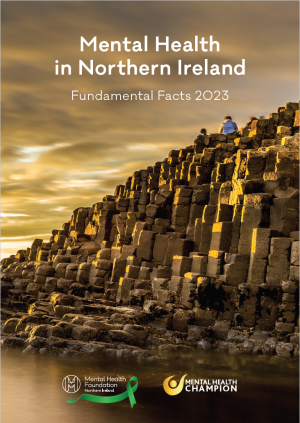 A new report published by the Mental Health Foundation and the Mental Health Champion on World Mental Health Day at the NI Mental Health Expo, has highlighted the importance of tackling social inequalities to reduce the rates of poor mental health in NI.
Launched at the NI Mental Health Expo, Mental Health in Northern Ireland Fundamental Facts 2023 report collates the most up-to-date and accurate data on mental health in NI and includes data on the risk factors: early adversity, trauma, poverty and education. It also identifies groups at higher risk, including carers, people, with disabilities and health conditions, and LGBTQIA+ people.
The wide-ranging report shows that people in the most deprived areas (30%) are more likely to have a probable mental illness compared to those in least deprived areas (20%); and poverty, particularly child poverty is key contributor, with one in 4 (24%) children in Northern Ireland living in poverty. Stable housing is also a key driver of wellbeing with almost 70% of people experiencing homelessness having a diagnosed mental health condition.
The report also highlights the associations between poor mental health outcomes and Adverse Childhood Experiences; 47.5% of young people aged 11-19 years experienced at least one ACE. Young people in the least deprived areas more likely to have experienced no ACEs compared to those in the most deprived (59.9% vs 36.0%).
One in 5 adults and one in 8 children in Northern Ireland, have a probable mental illness, according to the report, with rates in adults similar to other regions. However, our history of conflict may have contributed to more complex mental health difficulties in the population here.
Welcoming the new report, Professor Siobhan O'Neill, Mental Health Champion said:
"The report provides an important overview and guide to the social determinants of mental health, and aspects of policy which if addressed, would reduce the burden of suffering, and also the economic costs of poor mental health.
The full implementation of the Mental Health Strategy is also necessary to create the changes in services so that those with mental health problems receive treatment, and that interventions can be delivered at an earlier stage.
My concern is that right now, in its third year of implementation, there is a funding shortfall and no evidence of an increase in the training places to deliver the workforce so desperately needed. Also, it is clear that the Strategy alone is insufficient to stem the tide of poor mental health that is thwarting progress and prosperity in NI. Mental health is built in families and communities; it is fundamental that we tackle social inequalities, reduce poverty and invest in early year's and children's services if we want our communities to thrive."
Speaking on the launch of the report Karen Hall, Head of Northern Ireland for the Mental Health Foundation said:
"The main purpose of the Fundamental Facts on Mental Health resources is to compile information from various sources into a user-friendly resource that communities, policymakers, or researchers can use to inform their work. It shouldn't be used in isolation. Whilst the facts provide information, we need to think about how each of them can impact our mental health. It is important for policy and service development to be based on evidence which includes both statistics and in-depth accounts of people's experiences. 
We all have mental health, and we all can experience mental health problems, whatever our background or walk of life. However, the risks of mental health are not equally distributed. The circumstances in which we live can shape our mental health, and that's why we've included data on things like poverty, employment and housing, as well as those who may experience greater levels of inequality.
The NI Mental Health Strategy cannot sit by itself and hope to improve mental health outcomes. If we do not interlink government policy on issues such as poverty, housing and community safety with mental health alongside tackling inequality and discrimination, fewer people will have good mental health, and more people will experience mental ill health."
Going forward the report will act as a live document updating to reflect new information or data published on mental health in Northern Ireland.
NOTES TO EDITOR
You can access the full report, 'Mental Health in Northern Ireland Fundamental Facts 2023' by Mental Health Foundation and the Office of the Mental Health Champion here.

Please note that data in the report, is difficult to draw comparisons with other UK regions due to differences in how mental health is measured across the regions.